I hope you know my work well enough to know that I am constantly talking about the power of positive words. As a matter of fact…in my scripture study today, I came across this message.
Is what I am writing…will it leave a blessing in someone's life? Is it leaving light? For me, leaving someone with light is very important. Basically, leaving them feeling uplifted and better for having talked with me. Am I always successful….no. But I find this to be a worthy goal of my time and mental energy.
Speaking of mental energy. I have also shared with you that if you will add a visual to your positive statements…you will increase your mental energy. How? With an image your mind can easily latch onto the statement…adding more zest and zoom. Seriously, it will increase the impact of the positive statement in you mind….helping it to remember it more clearly, which in turn will affect your outlook and emotional reactions.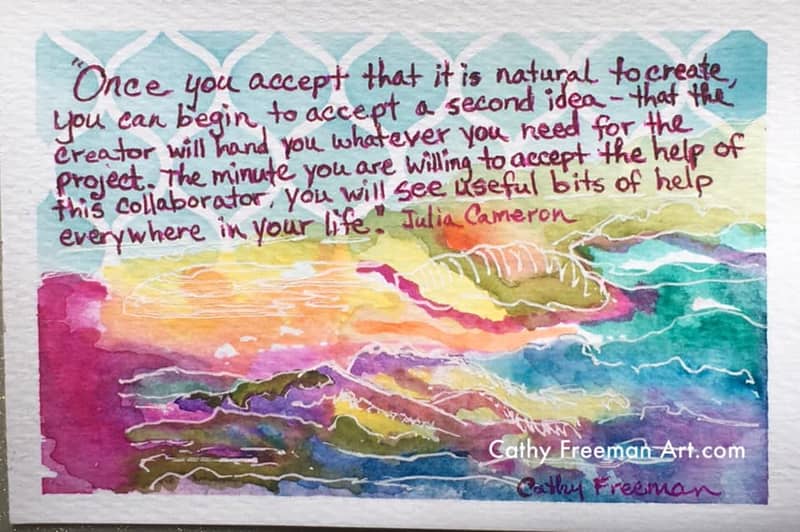 I recently came across a statement by Julia Cameron. She is the author of the book,The Artist's Way. She said, "Once you accept that it is natural to create, you can begin to accept a second idea–that the creator will hand you whatever you need for the project. The minute you are willing to accept the help of this collaborator, you will see useful bits of help everywhere in your life."
I felt like this was a statement that I wanted to remember. I create a simple watercolor background and then wrote it in my own handwriting. Yes, it's not perfect…but let me tell you something about perfectionism according to Cameron.
"Perfectionism has nothing to do with getting it right. It has nothing to do with fixing things. It has nothing to do with standards. Perfectionism is a refusal to let yourself move ahead. It is a loop–an obsessive, debilitating closed system that causes you to get stuck in the details of what you are writing or painting or making and to lose sight of the whole. Instead of certain freely and allowing errors to reveal themselves later as insights, we often get mired in getting the details right. We correct our originality into a uniformity that lacks passion and spontaneity. 'Do not fear mistakes,' Miles Davis told us. 'There are none.'"
I appreciated what she said…"we correct our originality into a uniformity that lacks passion and spontaneity."
So my friend, here is a link to a video showing you how-to make an easy background with watercolor and ink.
You can create a background in very little time. I would suggest creating several at a time…let them dry and then the next time you need a pretty background for a quote, you have one ready to go.
I would love to see what you create. You can post your work in
my FB group. While you are there visit my FB page.
And come follow my work on Instagram https://www.instagram.com/cathyfreemanart
Supplies: 4×6 watercolor paper…or whatever size you wish.Watercolor, Round tip brush, distress ink and your favorite stencil. (you can leave the ink part off and simply watercolor the whole page.)I put masking tape on all the edges of the paper to give it a crisp boarder…but it's not necessary.